---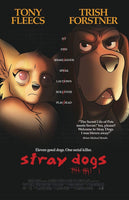 RELEASING SOME PERSONAL COPIES SPORADICALLY IN THE STORE BELOW MARKET PRICE! 9.4 OR BETTER! (THEY WILL BE BETTER, BUT ALWAYS ON THE SAFE SIDE!)

A JOINT JAM WITH RAINBOW COLLECTIBLES AND JJ'S COMICS AND ART!
LIMITED TO ONLY 500 MADE BETWEEN THE 2 STORES!
TONY FLEECS, A LOCAL BOY DOING GOOD AND LIVING THE DREAM OFFERED US SOMETHING SPECIAL!
AND MY #1 EMPLOYEE, DUKE IS FEATURED ON THE BACK COVER ALONG WITH THE RAINBOW DOGS!
A FANTASTIC BOOK THAT YOU WILL LOVE! ALREADY OPTIONED FOR A MOVIE BEFORE #1 RELEASES!
THE 'SEVEN' MOVIE COVER IS PART OF A FAMOUS SUSPENSE/HORROR THEME FOR THESE EXCLUSIVES AND FOR THE SERIES OVERALL!
US SHIPPING ONLY! 
9.4 or BETTER! (BETTER, BUT WE HAVE TO USE THE DISCLAIMER0
RUNNING LOW ON STOCK!