---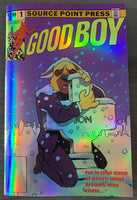 Continuing the series of Daredevil Homage Tony Fleecs has created for us comes the #2 of the series!
Good Boy V2 #1 Exclusive
FOIL COVER /60
Eisner Nominated Tony Fleecs Cover art
Limited to 60 copies, spread across a member of the Good Boy Creative Team and our JJCOMICS Whatnot show!
Check out the exclusive and metal covers also for sale in very limited quantities!
We also have a small amount of LITTLE RED RONIN JJ'S EXCLUSIVE KIT WALLIS ASHCAN AVAILABLE!