---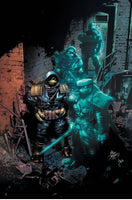 TEENAGE MUTANT NINJA TURTLES
THE LAST RONIN: THE LOST YEARS #1
MIKE DEODATO 1:100 VIRGIN RATIO COVER
WHILE WE CAN NEVER GUARANTEE A 9.8, WE WILL SHIP THE BEST POSSIBLE COPIES TO OUR CUSTOMERS, AS ALWAYS.
BOOK IS EXPECTED TO BE RECEIVED THE WEEK OF RELEASE, BUT LATER THAT WEEK. WE WILL GET ALL ORDERS OUT ASAP AS USUAL!
WE ARE ALSO OFFERING ALL OF THE 1:25, 1:50 AND 1:100 RATIOS FOR YOU ALSO!
AS ALWAYS, THANK YOU FOR YOU CONTINUED SUPPORT, IT ALWAYS MEANS THE WORLD TO SEE SO MANY OF THE SAME NAMES!