---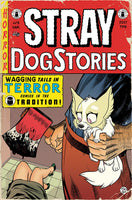 1 PER ORDER
1 PER ORDER
ORDER AS MANY TIMES AS YOU LIKE, BUT 1 PER ORDER
STRAY DOGS 'CRIME SUSPENSTORIES #22' HOMAGE TRADE PAPERBACK
JJ'S COMIC AND ART EXCLUSIVE
ONLY A CERTAIN AMOUNT WILL BE AVAILABLE ON THE SITE. THE REST WILL BE OFFERED AT SIOUXPERCON, AS A CONVENTION EXCLUSIVE.
SHIPPING IS PRIORITY BASED ON WEIGHT. WILL BE SHIPPED IN GEMINI MAILER WITH CARDBOARD PROTECTION. THIS IS A TPB, WE DO NOT GUARANTEE A CONDITION, BUT WILL NOT SHIP OUT CLEARLY DAMAGED PRODUCT.
ITEM WILL BEGIN SHIPPING THE WEEK IT IS RELEASED. CURRENTLY SET FOR A RELEASE DATE OF SEPTEMBER 15TH.
US SHIPPING ONLY!
A PORTION OF THE PROCEEDS WILL GO TO BENEFIT AN ORGANIZATION IN MY LOCAL AREA WORKING WITH ANIMALS THAT ARE IN NEED OF MEDICAL ATTENTION AND LOVE. MORE ON THAT TO COME, BUT WANT TO MAKE THIS WORTHWHILE FOR EVERYONE.